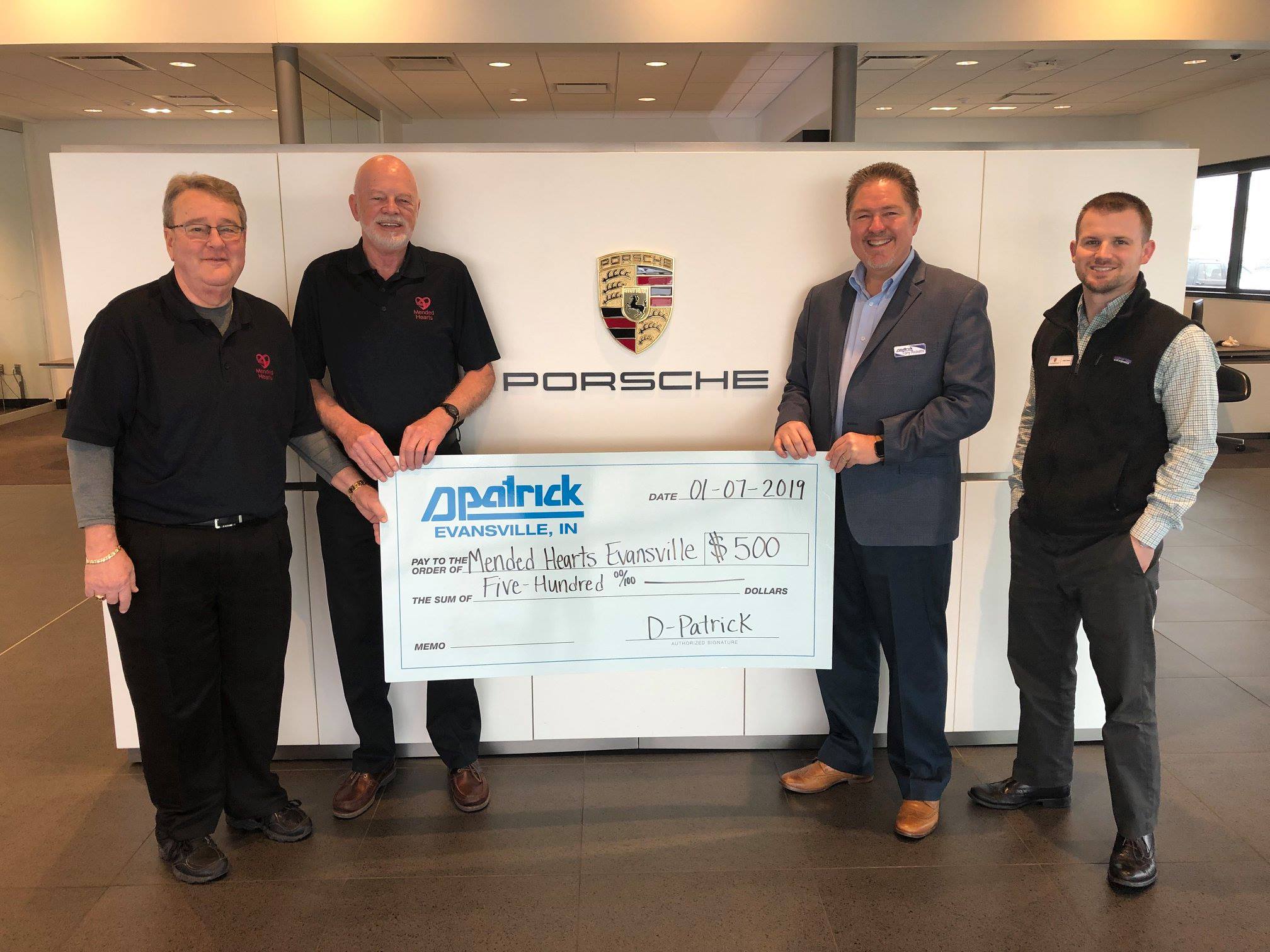 ---
D-Patrick Porsche Helps Those Affected by Congenital Heart Defects by Donating to Mended Hearts
Evansville, IN, January, 25th, 2019- D-Patrick Porsche recently donated $500 to Mended Hearts of Evansville to help local children and families with congenital heart defects. Mended Little Hearts of Evansville is a nonprofit, volunteer-based organization providing hope, help, and healing to heart patients and their families. It is made up of the people it serves - moms, dads, children, and families affected by congenital heart defects - along with medical professionals and community members working with these families. The mission of Mended Hearts is to empower families affected by congenital heart disease (CHDs) through peer-to-peer support services, education, connecting families with resources, creating awareness and advocacy.
On Monday, January 7th, 2019, Sales Manager Tony Ricketts alongside Cody Ewers presented the check to Mended Heart representatives, Tom Southwell and Al Nevill in the D-Patrick Porsche Showroom located at 250 North Green River Road in Evansville. For more information on Mended Hearts visit www.mendedlittleheartsevv.org. 
D-Patrick, Inc. currently employs approximately 365 local people in a variety of positions and now carries nine vehicle lines (Audi, BMW, Ford, Honda, Lincoln, Mercedes Benz, Nissan, Porsche, and Volkswagen) with 7 showrooms, 4 service departments, 4 parts departments, 3 body shops, and a corporate office. D-Patrick, Inc. employs the finest dealership staff, offers a superior service and sales experience, maintains a tremendous selection of new and used vehicles, and strives to offer the best deals in the tri-state area.
For more information, please contact Tony Ricketts at 812-473-6590